Access and Registration
The home page can be viewed by anyone without registration, but only registered users can access data or species content, which is tiered. The reason for tiering is to help protect specific locations where mussels are found. Listed below are the 3 levels of access. 
Tier 1: Access to the following pages: Home, Getting Started, Registration, Nomenclature, Basin Checklist, Glossary, References, Disclaimer, and Contributors. Does not require registration. This tier of access is intended for the general public who may be interested in learning about mussels.
Tier 2: Requires registration. Allows access to species information and a restricted zoom within the general mapping application. This tier of access is intended for agency management biologists actively working with freshwater mussels, private consulting firms, and academic researchers.   
Tier 3: Requires registration. Users have complete access to all species and both the general and advanced mapping applications. This tier of access is intended for select agency biologists from Texas Department of Transportation, USFWS, and TPWD.    
Registration Process Outlined
1. From the login page, click the register link.
2. User fills in name, email, and affiliation, and clicks Register.
3. The user is shown a confirmation page and receives an email thanking them for submitting data. 
4. Admins specified in the content management system receive an email to approve the account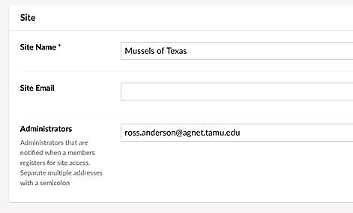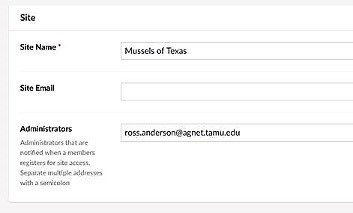 5. Admin follows link in email to review the account, adds the account to the appropriate role/group, and approves the account. 
6. This enables the account, resets the password, and sends relevant info to the user  
7. User logs in. A profile page also will be created where users can reset passwords.